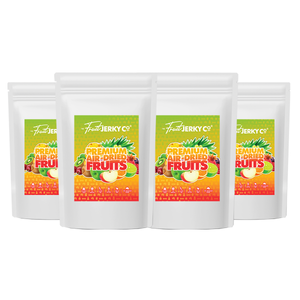 Air Dried Fruit Salad - Fruit Jerky
The Fruit Jerky Co - Air Dried Fruit Salad - 100% Australian
Our Air-Dried Fruit Salad Jerky is a delicious and healthy snack that is perfect for those who want to indulge in a sweet treat without any added sugars or preservatives. The flavour profile of Air-Dried Fruit Salad Jerky is a combination of sweet, tart, and slightly tangy notes, making it a refreshing and satisfying snack option.
The air-drying process also intensifies the natural flavours of the fruits, resulting in a more concentrated and complex taste.
Overall, the flavour profile of Air-Dried Fruit Salad Jerky is a delicious balance of sweetness, tartness, and tanginess, with a satisfying chewy texture. It's a great option for those who are looking for a healthy snack that satisfies their sweet tooth.
Discover our brand new collection of Fruit Jerky - a tasty and healthy snack option made from 100% Australian fruits. Just like our regular jerky, our Fruit Jerky is packed full of flavour and nutrients, making it the perfect snack for any time of day. 
100% Australian Fruit Salad Mix - Nutrition Information Per 100g:
| | |
| --- | --- |
| Energy | 1240kj |
| Protein | 5g |
| Fat - Total | 1g |
| - Saturated | 0g |
| Carbohydrate | 62g |
| -Sugar | 60 |
| Sodium | 5mg |
Ingredients: Australian Fruit Salad Mix - Suplhur Free
FAQ: Frequently Asked Questions
STORAGE
How do I store my products?
All meat products are best kept in a sealed container below 5°C - preferably the refrigerator. Store just like any other cold deli meat that you purchase from the supermarket.
How long will products last?
If stored correctly, the products will last 7 days from delivery. All products should be stored in the freezer past 7 days. Unless otherwise stated on the bags best before date.
Storage Tips
To prolong the products lifespan store products in an airtight container in the freezer. If stored in the freezer, in an unopened air tight container Beef Jerky and Snap Sticks can last 12+ months and Biltong can last 8+ months. Times may differ depending on storage conditions. If the seal is broken during this time, this will alter the lifespan.
Products must be defrosted safely for consumption and consumed within 1-2 days once defrosted. DO NOT refreeze any product that has been defrosted.
OUR PRODUCTS
Gluten Free
Our beef and lamb products may contain traces of gluten in the soy sauces and spices. Please read the information provided on all pre packaged items and take advice from these separately as they may differ.
Biltong or Jerky?
Traditionally, Biltong is a South African method of drying meat. Biltong is dried as a full piece of topside beef before sliced. You will find that Biltong is softer in the middle as the product dried from the outside in, leaving the centre moist and juicy. In comparison, Jerky is sliced into thin slabs before the drying process begins. This results in a chewier, harder product which is completely dry unlike biltong. All Jerky is marinated in soy sauce resulting in a sweeter taste.
Where Can I Buy?
Purchase online shipped direct to your door, fresh from our 17 Jerky Co store locations or pre-packaged from our suppliers!
Where Does Your Meat Come From?
Our meat is proudly Australian, sourced from only the finest MSA grade beef and premium lamb that Australia has to offer. We take pride in our products and choose to support our local economy as much as we possibly can.
Are your meat products Halal?
We're very happy to say that all of our meat products at The Jerky Co are 100% halal. Our halal beef jerky and other air dried meats can be enjoyed by all those looking for halal certified products.
ONLINE ORDERS
How will my order be packed?
All bulk fresh products are vacuum sealed to maintain freshness throughout transit, with oxygen absorbers included. Each product will be packed as per the weight that is purchased on our website, we cannot pack products into customised weight increments. Depending on variant of air dried meats product the vacuum seal tightness will vary, this does not cause any issues to the product in terms of shelf life and freshness.
Returns
Please report any issues with your products to our team within 3 days of your order arriving and we can be of assistance. Any issues reported after this timeframe may not result in a solution. Returned product will be considered on a case by case basis.